How investors can navigate an uncertain market and generate returns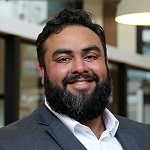 Anto Joseph on 14 Jun 2023
Stropro's CEO & Co-Founder, Anto Joseph, joins AusBiz's Nadine Blayney, to share his insights on the key concerns for investors in today's market, and how they can navigate these challenges.
With the current lack of direction in markets, low volatility and liquidity, investors are taking a more cautious approach. Anto explores these concerns, and provides some insights into where opportunities may lie across global public markets.
Anto outlines how investors can use structured investments to achieve non-correlated market exposure, with liquidity by accessing proprietary index issued by global investment banks, even during periods of low volatility and unclear market direction.
Learn more about how you can access exclusive investment opportunities through Stropro.

This information is for educational purposes and is not a substitute for professional and tailored financial advice. This information expresses the views of the author(s) at a point in time, which may change in the future with no obligation on Stropro or the author to publicly update these views. This information uses information from sources the author considers to be reliable but does not represent that such information is accurate or complete, or that it should be relied upon. Past performance is not a reliable indicator of future performance. Investments may rise and fall in value and returns cannot be guaranteed. Stropro makes no representations or warranties, express or implied, as to the accuracy or completeness of the information it provides. Stropro is a Corporate Authorised Representative (CAR No. 1277236) of Lanterne Fund Services Pty Ltd (AFSL No. 238198).