Best in Class Private Credit Opportunity: NorthWall Capital European Opportunities Fund II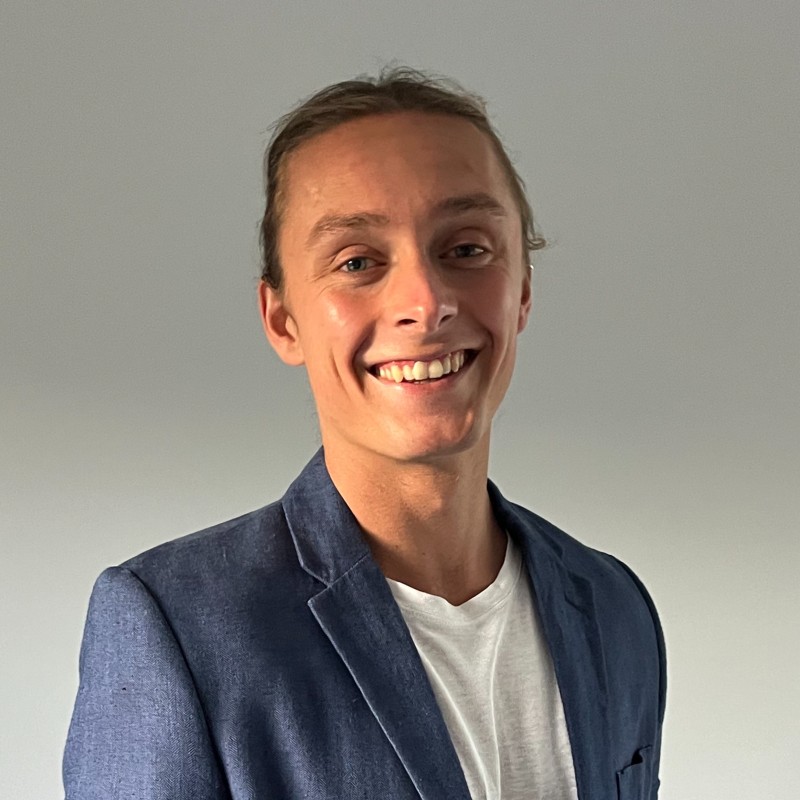 Louis Gordon on 12 Sep 2023
With assets under management in private credit strategies nearing $2 trillion, the sector is no longer the financial markets' best-kept secret. The industry's leading lights believe private credit is having a golden moment.
We present NorthWall European Opportunities Fund II. A best-in-class opportunity to target outsized returns, managed by a firm with a 6-year track record, €1.3bn+ AUM, and multiple fund vintages.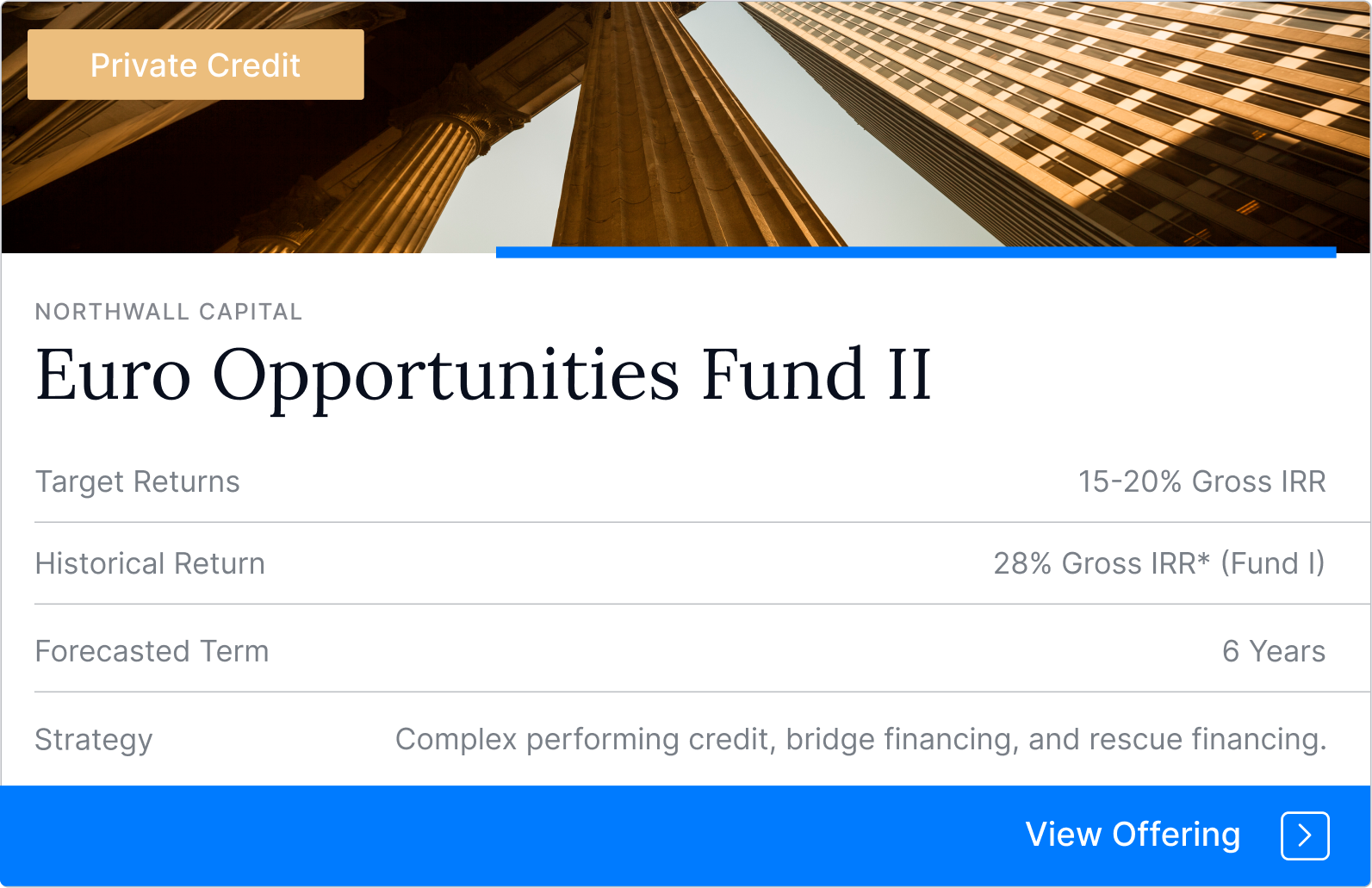 As monetary conditions have become more restrictive in the past 18 months, traditional lending institutions e.g. banks, have scaled down their lending activities. For mid-market, established companies, borrowing is harder than ever, prompting them to explore alternative funding avenues outside of insitutional banks.

NorthWall Capital provides credit solutions in Western Europe. Their focus is small-cap and mid-cap transactions ranging from €20M-€100M, with a target return of 15-20% IRR.

---
Here's why investing in NorthWall Capital European Opportunities Fund II is a compelling opportunity:

✔️ European credit markets are disrupted and capital is scarce:
As liquidity has evaporated leaving companies to seek alternative funding solutions.

NorthWall is in a prime position to exploit this opportunity set and a highly-respected lender, that can move quickly to solve funding gaps.
✔️ NorthWall manages over €1.3bn for institutional investors:
Fund I, NWEOF I, launched in April 2020 (€303m) and has generated a 27.6% gross IRR since its inception.

The firm has successfully closed over 50 transactions since 2017.
✔️ NWEOF II is open to Australian investors exclusively via Stropro:
Fund II is now available to Australian investors with a target size of €500-700m.

As of 30 June 2023, NWEOF II gross IRR was 24%.

Target Return is 15%-20% IRR or 1.75-2x multiple on invested capital (MOIC).

Applications Close: 16th of October 2023
Minimum Investment: EUR $100k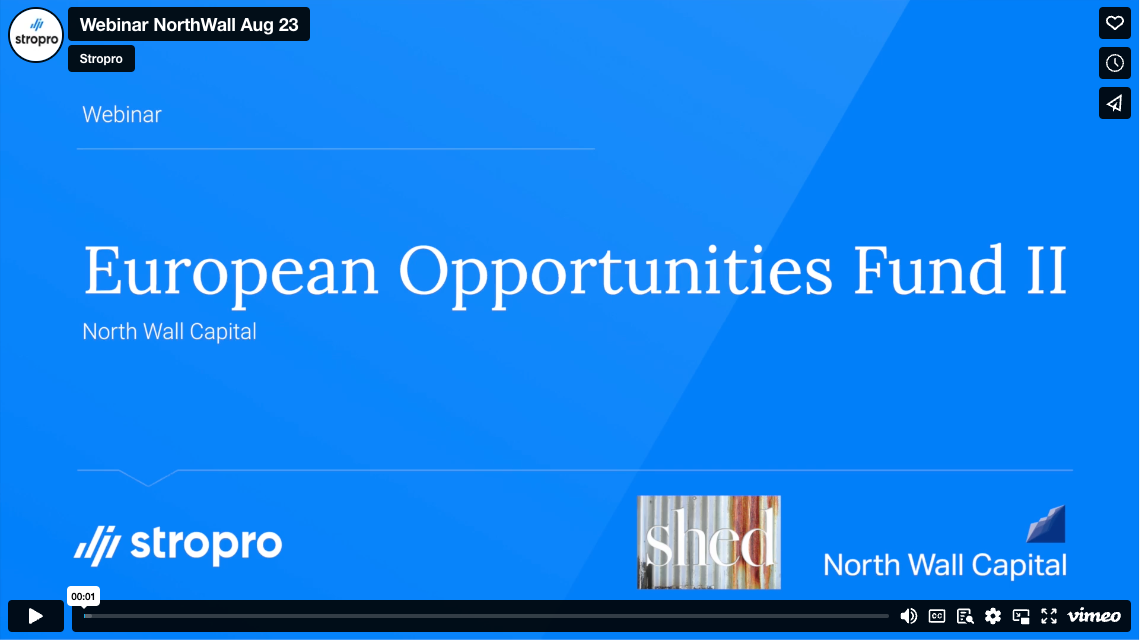 View the investment strategy in the Stropro Platform here.


Please feel free to reach out to the team if you have any questions.
Stropro Team
(02) 8313 7021

Footnotes: 1. Please refer to the offering materials on the Stropro platform for a full description of risks.

* Past performance is no guarantee of future results. Past performance is not a reliable indicator of future results. Historical returns, expected returns, or probability projections may not reflect actual future performance.
Investments made available on the Stropro platform are only available to wholesale, sophisticated or professional investors and their financial advisers. Information contained in this email is general in nature. Please consider whether the information and investments are suitable for you and your personal circumstances. Stropro Operations Pty Ltd (ABN 28 633 603 399) (Stropro) is a Corporate Authorised Representative (CAR No. 1293257) of Stropro Compliance Pty Ltd (ABN 74 640 214 740, AFSL No. 533443). Stropro Operations Pty Ltd and Stropro Compliance Pty Ltd is a subsidiary of Stropro Technologies Pty Ltd (ABN 80 619 399 932) © 2021.